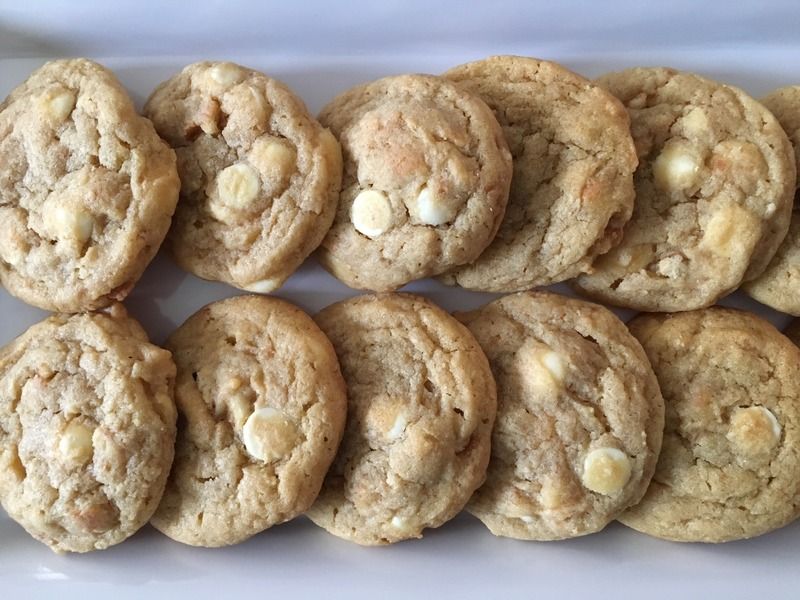 2 sticks butter (room temp)
3/4 cup light brown sugar
1/4 cup granulated sugar
1 (3.4) oz package instant banana pudding (i use the new simply jell-o made with real bananas - in a pouch)
2 eggs
1 teaspoon vanilla extract
2-1/2 cups flour
1 teaspoon baking soda
1-1/2 cups crushed vanilla wafer cookies (small chunks not powder)
1-1/4 cups Ghirardelli white chocolate chips
1. Preheat oven to 350 degrees
2. Line a cookie sheet with parchment paper, set aside
3. Using a mixer, beat together butter and sugars until creamy
4. Add pudding mix, eggs, and vanilla, continue beating 
5. Stir in flour and baking soda until moist, then beat with mixer until smooth
6. With a spoon, fold in cookie pieces and chocolate chips until evenly distributed
7. Drop cookie dough onto prepared baking sheet, bake 10-12 minutes until edges begin to brown
8. Slide parchment onto counter and cool
*Cookies will look soft when coming out of oven, but they will firm up perfectly after 10-15 minutes
2 packages refrigerated pie crusts - each comes with 2 crusts
1 can / jar pie filling of your choice (i used peach-cherry)
1 egg yolk
1 teaspoon milk
sugar for topping
sticks
1. Preheat oven to 350 degrees
2. Unroll pie crusts
3. Line cookie sheets with parchment paper
4. Using a circular cookie cutter, cut out as many circles as you can on each pie crust
5. Put a stick firmly in center of half of the pie circles
6. Spoon a small amount of filling in center, lay pie crust circle on top, press down edges with fingers
7. Using the end of one of the sticks, seal around entire pie, once sealed make 3 small slits with knife on top of pie for venilation
8. Combine egg yolk and milk, brush top of each pie, sprinkle with sugar
9. Bake 25-30 minutes until brown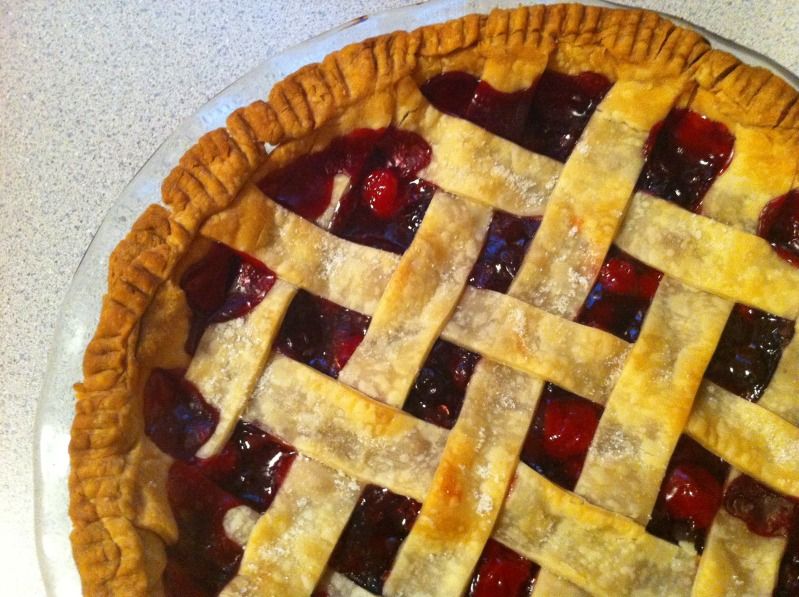 Thanksgiving and Christmas party favorite!
2 refrigerated pie crusts
1/2 cup sugar
1/4 teaspoon cinnamon
1 (21 oz) can cherry pie filling
3 cups assorted berries (I use raspberries, blackberries and blueberries)
1 egg white
1 teaspoon water
1 teaspoon sugar
1. Preheat oven to 425 degrees
2. Press one of the pie crusts in a 9 in pie plate and bake for 5 min
3. In a large bowl, stir together sugar and cinnamon
4. Stir in the cherry pie filling and berries and spoon into cooked pie crust
5. Top with second crust - to do so lay out and cut in strips, lay over the pie alternating an over under pattern
6. Use excess pieces to pinch together forming a crust around the pie
7. In a cup whisk egg white and water, brush over pie
8. Sprinkle with sugar and bake for 45 minutes until golden brown
9. If crust is getting too dark, cover edges with aluminum foil
10. Cool for 2 hours
2 refrigerated pie crusts
7 medium apples (cored, peeled, and sliced) I use a variety of apple types, much tastier!
1/2 cup sugar
1/2 cup brown sugar
3 TB flour
1 teaspoon cinnamon
1/2 teaspoon vanilla
1 TB softened butter
vanilla ice cream (optional)
1. Preheat oven to 400 degrees
2. Grease pie pan and evently press out one of the crusts, bake 10 minutes and remove from oven
3. In a large bowl combine sugars, flour, cinnamon and vanilla
4. Add apples to sugar mixture and stir until fully coated
5. Spread apples evenly into pie pan
6. Lay 2nd pie crust out over the top and flute the edges (using alternating fingers and thumbs on each hand)
7. Brush top with butter and sprinkle with a bit of white sugar, cut slits in top
8. Bake 45 minutes, let cool 30 minutes to thicken sauce
9. Serve with ice cream for apple pie a la mode!
Celebrate Spring with this light strawberry treat!
1/2 cup boiling water
1 package (3.4 oz) strawberry Jell-o
1 cup cold water/crushed ice mixture
8 oz light Cool Whip topping
12 mini graham cracker pie crusts
1. Dissolve Jell-o in boiling water
2. Add water/crushed ice mixture and stir until ice is melted completely
3. Whisk in Cool Whip until smooth
4. Fill pie crusts with Jell-o mixture
5. Refrigerate 2 hours until firm
6. Easy as pie
*Can replace mini pie crusts with a regular graham cracker pie crust (refrigerate 4 hours instead of 2)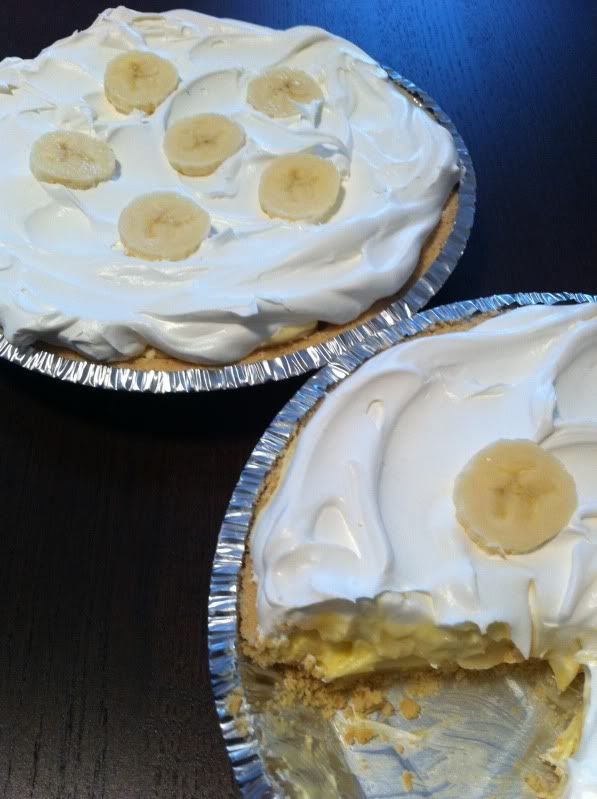 1 ready made graham cracker (or shortbread) pie crust
3.4 oz box banana cream instant pudding
3.4 oz box vanilla instant pudding
2 1/2 cups milk
4 bananas
16 oz cool whip topping
1. In bowl combine puddings and milk and whisk for 3 minutes
2. Refrigerate pudding for 5 minutes, stir in 1 cup cool whip
3. Line bottom and sides of pie crust with slices bananas
4. Spread a layer of pudding mixture over bananas
5. Add 2 more layers of bananas and pudding (3 layers total)
6. Top pie with a layer of cool whip and sliced bananas, keep refrigerated
Filling-
2 cans sweetened condensed milk
5 bananas (chopped)
2 teaspoons vanilla extract
16 oz heavy cream (whipped) or cool whip
½ cup grated semi-sweet chocolate
Cookie Crust-
½ stick melted butter
1 cup crushed graham crackers
1/3 cup crushed almonds
1/3 cup crushed pecans
1. Place unopen cans of milk in large pot and cover with water
2. Bring to a boil, reduce heat and simmer 1 hour (let cool)
3. Mix together butter, graham crackers and nuts
4. Press mixture into greased pie pan
5. Bake at 350 degrees for 10-12 min, remove and let cool
6. Mix sliced bananas with vanilla, spread onto pie crust
7. Pour 1-2 cans of milk over bananas
8. Sprinkle with 1/2 the chocolate
9. Top with whipped topping, garnish with the rest of the chocolate