No batter just biscuits! Can't even tell the difference, and they are small enough to sample every flavor!
For Frying - 
1 tube Pilsbury biscuits (small not grands)
vegetable oil
For Topping - 
powdered sugar
sugar
cinnamon/sugar mixture
1. Fill a small skillet about halfway with vegatable oil
2. Warm oil on medium heat for 5-10 minutes (do not put on high heat or doughuts will fry too fast and be raw in center)
3. Flatten each biscuit with fingers and cut a circle in center (I use a frosting tip to pop it out, can also use a hot sauce cap or something else small in the fridge)
4. Drop doughnuts in oil and fry each side until golden (30-90 seconds) using tongs to flip
5. Place on paper towels to remove excess oil
6. Toss warm doughnuts in powdered sugar, sugar, and cinnamon sugar mixtures
7. Best enjoyed fresh, and so addicting!
Cake -
2 cups flour
2 teaspoons baking powder
1/2 teaspoon salt
2 teaspoons ground cinnamon
2 eggs
1 cup sugar
3 mashed ripe bananas (will start to get black spots)
2 teaspoons vanilla
1 stick butter (melted)
1. Preheat oven to 350 degrees, grease doughnut pan
2. In a large bowl, combine flour, baking powder, salt and cinnamon
3. In a small bowl, whisk together eggs and sugar, add bananas and butter and whisk until smooth
4. Add to flour mixture and stir until smooth, do not overmix
5. Cut off corner of ziplock bag and fill with batter
6. Pipe batter into doughnut pan, do not overfill, bake 12 - 15 minutes until firm
7. Make glaze below -
Glaze -
1/2 stick butter
1 cup peanut butter
1 cup powdered sugar
1. In a small saucepan, melt butter over low heat
2. Add peanut butter and continuously stir until melted
3. Remove from heat, add powdered sugar and whisk until smooth and creamy
4. Dunk doughnut tops in glaze and let harden 10 minutes
5. Thank Elvis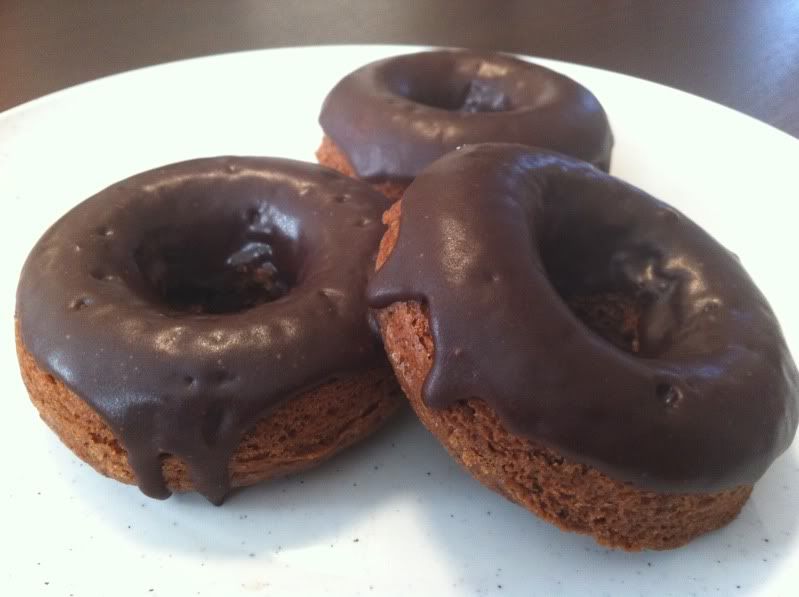 Cake -
1 cup flour
2 TB cocoa powder
2 teaspoons
2/3 cup sugar
1/4 teaspoon ground nutmeg
1/2 teaspoon salt
2 TB melted butter
1/4 cup milk
1/4 cup sour cream
1 teaspoon vanilla
1 egg
1. Preheat oven to 350 degrees, grease doughnut pan
2. Whisk together flour, cocoa powder, baking powder, sugar, nutmeg, and salt
3. In separate bowl whisk together butter, milk, sour cream, vanilla, and egg
4. Add to flour mixture and stir until smooth, do not overmix
5. Cut off corner of ziplock bag and fill with batter
6. Pipe batter into doughnut pan, do not overfill, bake 10-12 minutes until firm
7. Make glaze below -
Glaze -
3 TB butter
2 TB milk
1/2 teaspoon vanilla
1/2 TB corn syrup
2 oz unsweetened chocolate, melted
3/4 cup powdered sugar
1. Combine butter, milk, corn syrup and vanilla in a saucepan over medium heat until butter is melted
2. On low heat, add the chocolate and continuously stir until melted
3. Remove from heat, add powdered sugar and whisk until smooth and creamy
4. Dunk doughnut tops in chocolate and let harden 5 minutes