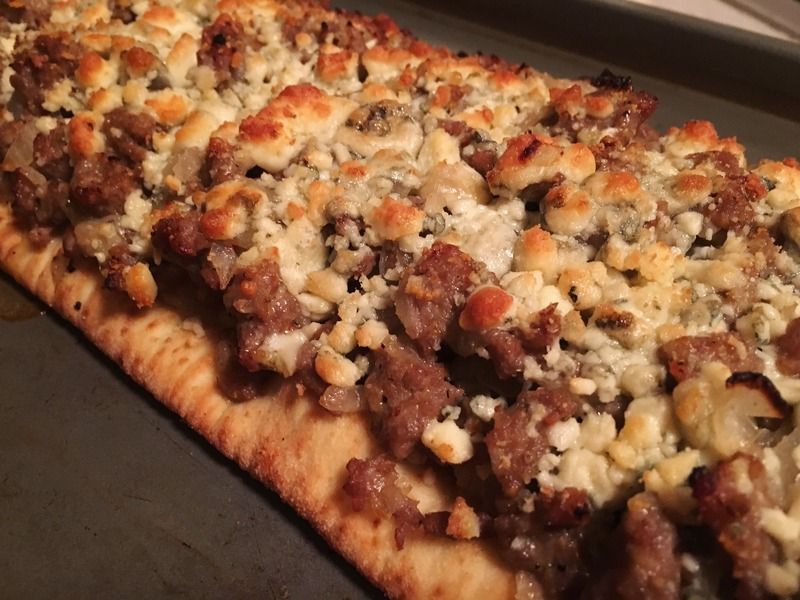 Cheap. Easy. Delicious. You should make this 
3 TB butter
2 medium onions, chopped
dash of salt and pepper
20 oz spicy italian sausage (ground, or squeezed out of casings)
flatbread / pizza crust (already cooked)
4 oz crumbled blue cheese
1. Preheat oven to 450 degrees
2. In a large skillet melt butter, add onions
3. Saute onions until carmelized, about 10 minutes
4. Add sausage, salt and pepper
5. Continue to stir / saute until sausage is brown and cooked through (make sure to chop any large chunks)
6. Place pizza crust on cookie sheet, top with sausage mixture, sprinkle with blue cheese
7. Bake 7-10 minutes until cheese starts to brown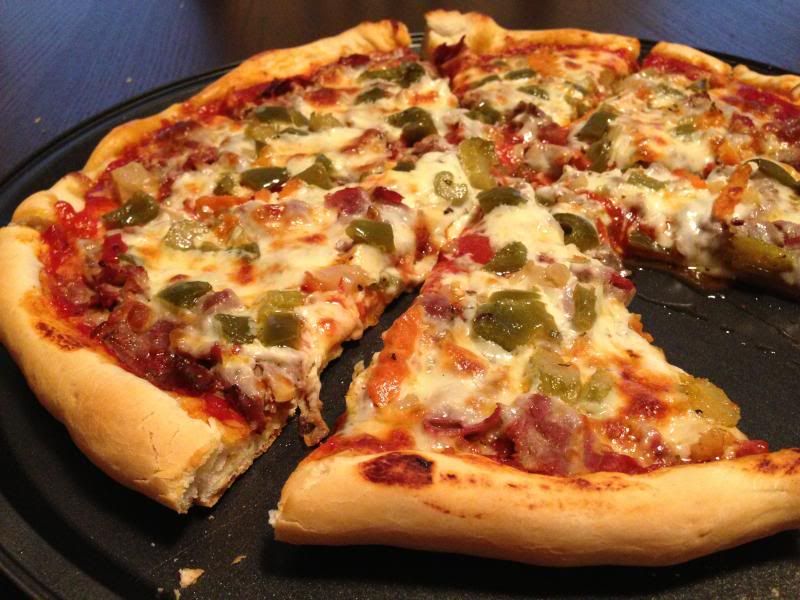 Crust -
3/4 cup warm water
1 package active dry yeast
1 TB olive oil
1 teapoon sugar
1/2 teaspoon salt
2 - 1/4 cups flour
1. Preheatoveno 450 degrees
2. In a medium bowl dissolve yeast in water, let stand 10 minutes until foamy
3. Stir in oil, sugar and salt
4. Add flour in small amounts until dough ball forms, knead 20-40 times
5. Place dough in small greased bowl, turning once to grease both sides
6. Cover dough and let rest in bowl about 45 minutes (it should double in size)
7. Punch dough down, roll out crust to thickness of your choice (make sure to roll up ends to make crust so sauce doesn't spill out)
Sauce -
2 TB olive oil
1 (15 oz can) tomato sauce
1 (6 oz can) tomato paste
1 teaspoon oregano
1 teaspoon parsley
1/2 teaspoon basil
1/4 teaspoon crushed red pepper
1 teaspoon minced garlic
1 TB brown sugar
salt to taste
fresh ground pepper to taste
1. Heat oil in medium saucepan
2. Add all ingredients, simmer uncovered for 30 minutes (stirring occasionally)
3. Spread evenly on pizza
Toppings -
1/2 pound thinly sliced italian beef
1/2 cup hot giardiniera
2 cups mozzarella cheese
1. Tear italian beef and spread evenly over pizza
2. Top with mozarella cheese
3. Sprinkle with giardiniera (can do less or more depending on desired hotness)
4. Bake 15 - 20 minutes on bottom rack of oven
2 (16oz) tubes sugar cookie dough
4 oz cream cheese (room temp)
8 oz cool whip topping
1 cup powdered sugar
1 teaspoons vanilla extract
juice of 1/2 orange
1/2 cup shredded coconut
3 bananas (sliced)
1 can pinneapple slices (quartered)
1. On ungreased cookie sheet (with sides) spread dough evenly into a square
2. Bake 15 minutes at 350 degrees
3. Using a hand mixer, beat together cream cheese, cool whip, powdered sugar, vanilla, and orange juice until smooth
4. Beat coconut into frosting mixture
5. Once cookie is completely cooled, spread on frosting
6. Just before serving, arrange bananas and pinneapples in alternating rows
7. Refrigerate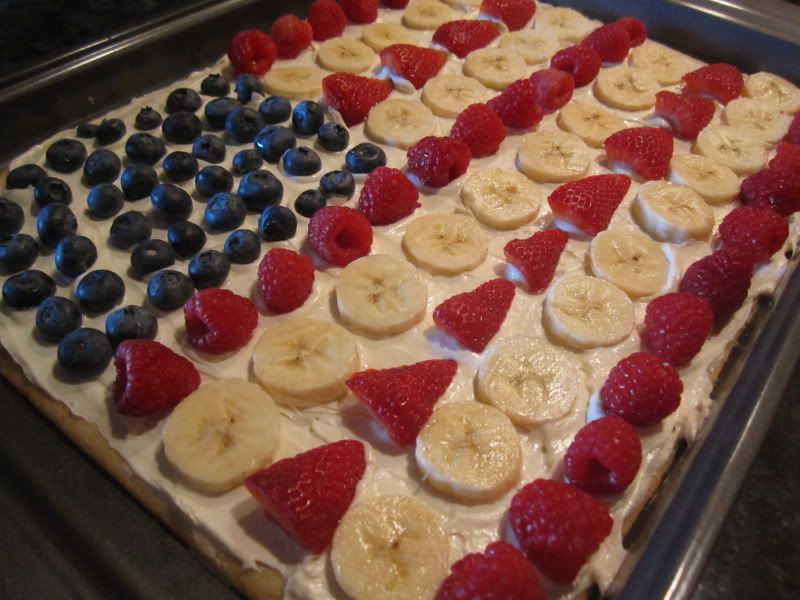 This recipe can be used for almost any holiday or occasion, just substitute the fruits and change the crust shape!
2 (16oz) tubes sugar cookie dough
8 oz cream cheese
8 oz cool whip topping
1 cup powdered sugar
2 teaspoons vanilla extract
1 carton blueberries
1 carton raspberries
1 carton strawberries (quartered)
3 bananas (sliced)
1. On ungreased cookie sheet spread dough evenly into a square
2. Bake 15 minutes at 350 degrees
3. Using a hand mixer, beat together cream cheese, cool whip, powdered sugar and vanilla until smooth
4. Once cookie is completely cooled, spread on frosting
5. Arrange fruits to resemble the American flag
6. Happy 4th of July!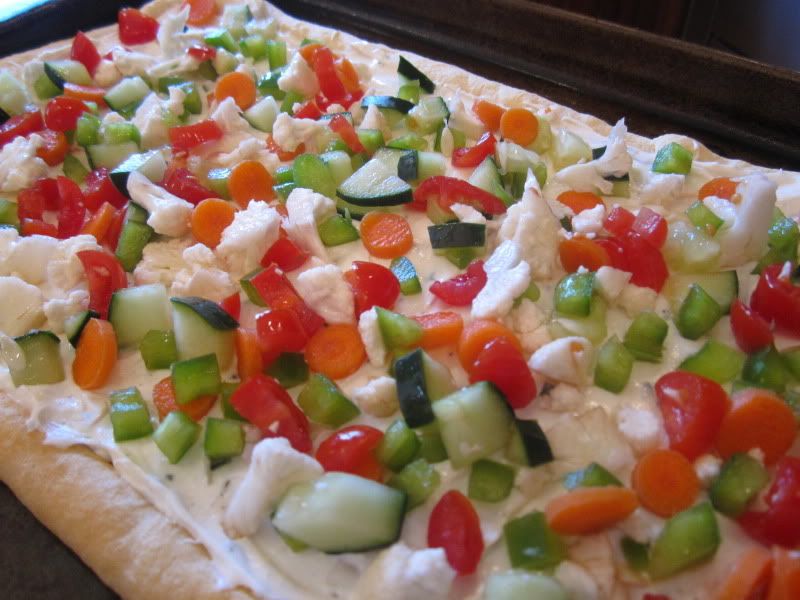 1 tube pilsbury crescent sheet (not pre-cut)
8 oz cream cheese (room temperature)
8 oz sour cream
1 (2 oz) envelope powdered ranch dressing mix
raw veggies of your choice (I use cauliflower, colored peppers, carrots, cucumbers and tomatoes)
1. Unroll crescent sheet and form a crust around edges
2. Bake at 350 degrees for 7-10 minutes (until lightly browned)
3. Stir together cream cheese, sour cream, and ranch dressing mix and spread on cooled crust
4. Dice veggies and sprinkle on pizza, store in the refrigerator